RUBBER SOUL BY GREG KIHN IS OUT! Book Signings Coming Soon!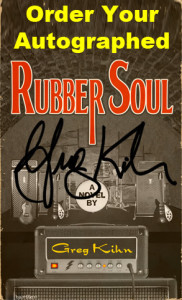 RUBBER SOUL is out! I just received my Amazon order yesterday and they were delivered. How exciting to receive your own book through the mail. I want to thank everybody for pre-ordering RUBBER SOUL through AMAZON because all the pre-orders are recorded as sales THE FIRST DAY! So we could actually make a dent in the bestseller list at AMAZON! I am stoked.
First of all, I am proud of RUBBER SOUL. I think it is the best book I've have ever written. It's dear to my heart. Of course I love the Beatles and I was lucky enough to live through Beatlemania. I watched the world change because of the Beatles. They affected me in so many ways. They made me want to be a professional rock & roll musician and I did! I had a great career because of the Fab Four!
The story of Dust Bin Bob is really all our stories. I hope you order yours today. I will be doing some book signings around California so keep checking the website for details. This is a great time for me!
RUBBER SOUL IS OUT!