The Kihntinuing Tradition of the KIHNCERT-Greg Kihn and Bret Michaels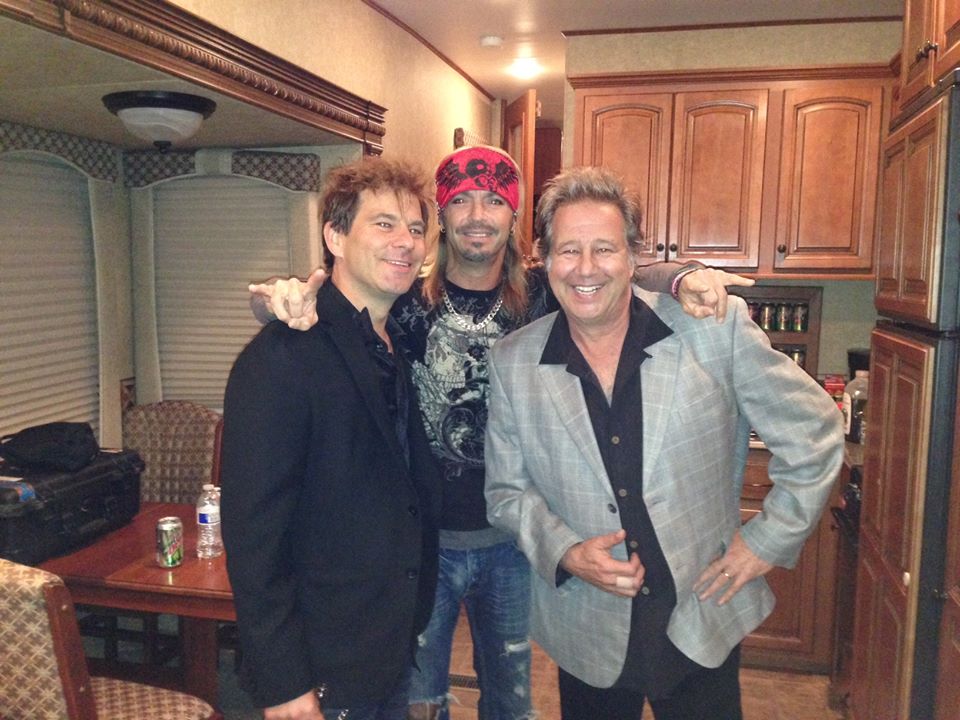 Bret Michaels is a great guy to work with and a promotional genius. He's raised more money for charity than anybody I know. That man has a true heart of gold. I got to spend some time with him and he's everything you think he is.
I met with him backstage and he asked if I wanted to jam with his band. Of course I said yes. Then Ry walked into Bret's RV and I introduced him and Bret had been hearing him shred all night, so he asked if Ry wanted to jam too. Fantastic! Bret explained our options. He has several points during the show where he jams. Our choice was "Sweet Home Alabama" at number four in the set list or "Rock and Roll" by Led Zep next to last. We jumped at the first choice and I started to prepare mentally for "Sweet Home Alabama" a song I've played thousands of time both on the radio and in jams.
The Greg Kihn Band had just finished their set and it was one of the best performances I can remember. The band was tight, we smoked everybody. We did nothing but original material at the KIHNCERT. No covers. That was the band's idea and it was a good one. We were proud of that. We did every Greg Kihn song you ever wanted to hear. I felt great on stage, relaxed and focused. I even remembered all the words! We were loaded for bear and it showed. I left the stage after the encore feeling completely satisfied. Ry was outstanding. He even sang "Happy Man" all by himself in a solo moment. We had a great time. The sound mix was good and loud (Big Ed did the mixing) and I felt completely in charge.
So, as Bret was mounting the stage, Ry and I climbed out on the edge. Ry plugged into Bret's Marshall stack (Bret and I decided just to sing this one- no guitar) and the first couple of songs seemed to fly by. Then I had a brain freeze. What was the first line of "Sweet Home Alabama?" I forgot! I was blankin'! Less than a minute until I have to sing and I'm having a brain fart! Ry whips out his iPhone and fished the lyrics up from the Internet. Except it's too small to read and by the now the lights had gone down and it was zero hour. Skyler Turtle came to the rescues with his iPad, he had the lyrics ready to go, lit so I could read them. I hastily read the first line. I knew if I got the first line I'd nail the whole song.
"Big wheel keep on turnin'." Was that it? That sounded like "Proud Mary" to me. Did I have the right song?
At last the moment had arrived. I heard Bret call my name. I walked out on that stage like a deer caught in the headlights of a car. Then a wonderful thing happened, something that all singers count on. As soon as the first guitar riff started it all came back to me. Bret and I traded off verses. I remembered it all- even the verse about Muscle Shoals.
Bret was great on stage- a bundle of energy. He made it fun. The audience went bananas. If you've never been on stage with Bret Michaels let me tell you, it's like swimming in an ocean of beautiful women all reaching for you. Yowza!
We got through the song and Bret hugged me. It was a great moment. Thanks Bret, that's a memory I'll never forget. I sure hope there are some pictures of it!
The TUBES were phenomenal. They played all their hits and sounded tight as ever. TOMMY TUNTONE surprised everybody with an excellent set which included his song about the most famous phone number in R&R- 867-5309! A splendid time was had by all.
Thanks to everyone who showed up in Morgan Hill for the 12th Annual KIHNCERT! See ya next year!